Leedor - Director and Lead Trainer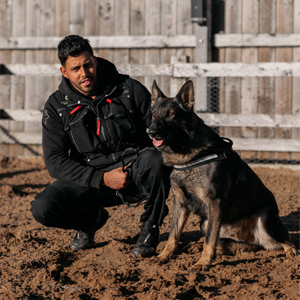 Leedor is the Founder and Lead Trainer at Protection Dogs Worldwide. He first became involved in dog training while rehabilitating dogs branded as being overly aggressive, and has always lived with pet dogs. He specialises in the training of bull breeds and Dobermann Pinschers who require expert handling. Leedor personally selects all of Protection Dogs Worldwide's dogs by travelling throughout the world to visit elite breeders and family-run kennels. With a customer's specific requirements in mind, he assesses each potential dog, and makes every effort to ensure that the most appropriate dog for them is identified. He also works alongside the Manof K9 Institute, who are best known for supplying dogs to Israeli army and police special forces. He also regularly trains and works alongside other world authorities in dog training, including a number of international police forces. He has sourced, trained, and supplied protection dogs to a range of high profile clients. These have ranged from high-profile diplomats to celebrities, both in the UK and abroad. His special professional interest is developing dogs to Protection Dogs Worldwide's "Elite" standard, and simulating realistic training scenarios.
Bethany - Protection Dog Trainer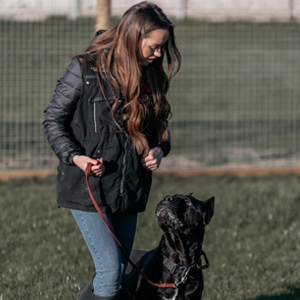 Beth has always had a natural affinity with animals, and formed very close bonds with dogs. Within Protection Dogs Worldwide, she brings a high level of expertise in obedience training, especially with younger dogs. She has outstanding animal husbandry training and knowledge, which has proved invaluable in maintaining our dogs in peak condition. She also supports Protection Dogs Worldwide's ongoing business operations.
Lewis - Protection Dog Trainer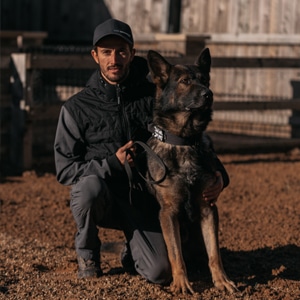 Meet 'Lewis' he is one of the protection dog trainers here at protection dogs worldwide. Lewis started training dogs at the age of 15 and has since gone on to train many dogs with a select few dogs reaching a high level in the sport of IPO, now formally known as IGP.
Lewis has represented his country ' Team GB' at the world championships for German Shepherd dogs in Tilburg Holland 2017. Aside from this he has competed at many national championships in the UK. Lewis has also worked closely with some of the police forces in the UK and also trained many dogs for the security sectors. On a decoy level for the protection work, Lewis obtained the highest grading 'A grade' for a decoy in the UK at just the age of 17 and has held a license for the last 11 years and was chosen to the do decoy work at the national championships in the UK. Furthermore Lewis has visited some world renowned trainers and seminars across Europe to gather as much knowledge as possible and looks forward to expanding his knowledge further in the future.
Sebastian - Protection Dog Trainer and Kennel Manager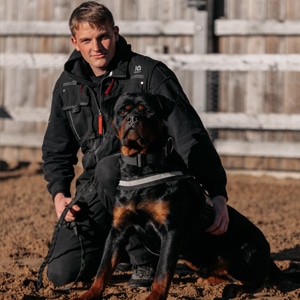 Sebastian initially had a background in agriculture, but began working with dogs by chance when introduced to Rottweilers involved in Schutzhund, and specialised in training them in protection and obedience work. Before joining Protection Dogs Worldwide, he worked in a police kennel rehabilitating former working dogs before they were put up for rehoming, and training strays in basic obedience who were candidates for adoption with dog sanctuaries. As Kennel Manager, he oversees all of Protection Dogs Worldwide's animal husbandry, and line manages the junior kennel staff. He currently owns three Rottweilers and a Cane Corso, and enjoys training them for protection-based sport competitions.
Grace - Kennel Supervisor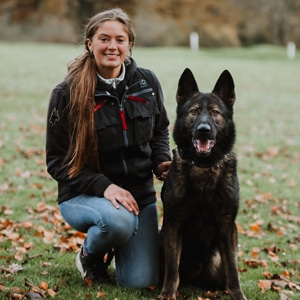 Grace holds a BTEC Level 3 in Animal Management (Behaviour and Welfare) from Bishop Burton College, and worked as a supervisor at Home From Home Pet Care for three years before recently joining Protection Dogs Worldwide. As Kennel Supervisor, she is responsible for all of our dogs' welfare and wellbeing, and particularly enjoys offering them additional engagement and stimulation during routine exercise periods. Grace also plays a key role in socialising Protection Dogs Worldwide's newer dogs, and exposes them to home environments in the local area. She currently housetrains Protection Dogs Worldwide's puppies in her own home.
Lydia - Kennel Assistant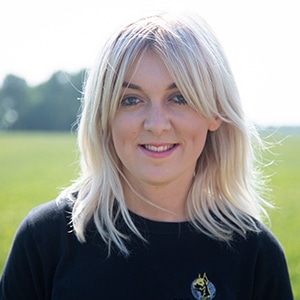 Lydia has spent all her life around dogs, and has a particular affinity for bull breeds. She initially took a BTEC Level 3 in Animal Management (Behaviour and Welfare) at Bishop Burton College where she specialised in kennel management and dog training. After this, she earned Level 2 and 3 City & Guilds qualifications in Dog Grooming, and has since managed her own dog grooming business. She has also worked at a boarding kennel which houses dogs seized by the police under the Dangerous Dogs Act 1991.
Mathew Walker - Trainer